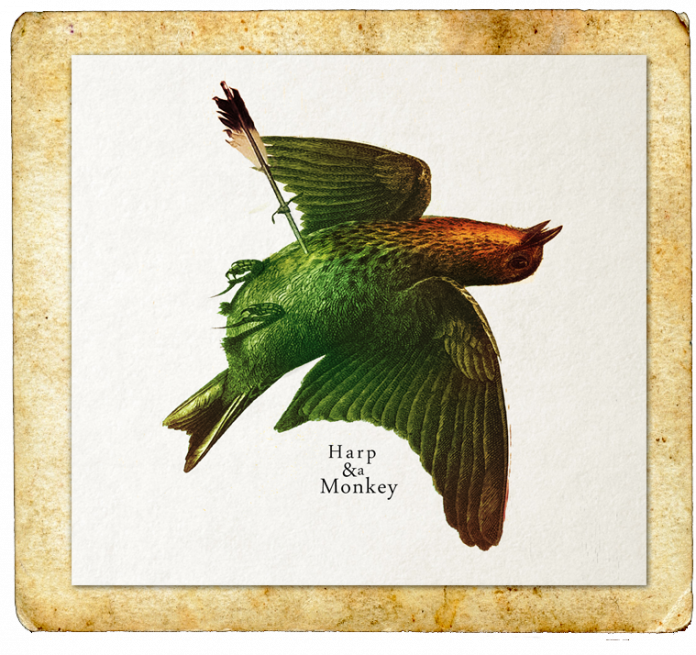 Admittedly, the idea of a folk album dedicated solely to the topic of a war didn't fill me with glee but I was pleasantly surprised by what I found on 'War Stories'. Hailing from Lancashire, folk trio Harp & a Monkey are Martin Purdy, Simon Jones and Andy Smith. The album came about following the band's First World War themed tour in 2015 in which the band performed in unusual locations connected to the conflict. 'War Stories' is their third album and consists of original material as well as rearranged traditional songs. Smith has a passion for the First world War, he has written a number of books and academic papers on the subject and this is apparent throughout the album.
Initially, my thoughts were that this was a very traditional collection of folk songs and I was struck by the simplicity of the music, however it soon became clear that beneath the surface, complex issues are being addressed many of which are seldom discussed in relation to the First World War.
'War Stories' takes the listener on a thought-provoking journey, tackling a range of subjects from sexually transmitted infections amongst soldiers to the role of postmen during the conflict. It provides insight into how these men may have felt about returning to civilian life and their families as well as how they were perceived by the rest of society, a theme which runs throughout.
Smith's distinctly northern voice works well with the descriptive, story telling nature of the songs, conveying genuine emotion. Multi-instrumentalists Purdy and Jones ensure that no song sounds the same and instruments including the harp, banjo and glockenspiel keep it traditional in a folk sense. Snippets of electronica jump in, often at unexpected moments, keeping the songs feeling fresh and up to date. At times I was reminded of James Yuill, another musician who mixes folk and electronica – although Harp & a Monkey are definitely more on the 'folk' end of the scale. Sampling is used throughout with snippets from films as well as voices recalling war stories. This is not something I'm a fan of – I blame Public Service Broadcasting for overuse of this technique – however, the samples here are relevant and reinforce the stories being told, heightening the hard-hitting, emotional impact.
One thing that Harp & a Monkey are extremely good at is causing all kinds of emotions to rise to the surface. The first song is a perfect example of this, the cheery opening bars of 'Banks of Green Willow' soon gives way to the sorry tale of soldiers returning from conflict to become 'the forgotten men'. It describes the two lives that the soldiers have experienced, in conflict and pre-war as 'coming out of the darkness and back into the sun'. Another, 'Broken Men', starts with a sample of a German woman's voice, before moving on to describe the mental and physical impact upon soldiers returning home to their families and the new challenges ahead. It closes with the band members singing along together and the catchy melody found me humming it hours later.
'Ghosts Around the Table' is one of the more modern sounding songs and again it deals with sadness. It describes the bonds between soldiers who have the shared experience of fighting in a war. It's based on a true story, a group of soldiers who meet up for an annual dinner and each year the numbers dwindle, 'year after year there's less of us here to talk to' sings Smith bitterly. Smith's vocals are particularly angry on this track, he has the ability to adapt his voice accordingly depending upon the subject matter. 'The Long, Long Trail' is one of my favourites -despite the heavy use of vocal samples. The song moves back and forth between Smith and a ladies voice describing two soldier brothers and a tragic incident which resulted in them never seeing each other again. It demonstrates once again the respect the band have for those who fought in the war. Smith's voice works well alongside the gentleness of this song, it's a bit of a tear jerker – be warned.
You'd be forgiven for thinking that 'War Stories' is all doom and gloom; due to the subject matter it is a bit bleak, yet somehow the music keeps things from becoming too heavy. 'Charlie Chaplin' lifts the mood slightly, based on a popular song of the day, it has marching drums which lend a military feel and it's very upbeat. I didn't connect with this as much as the others. I love the fact it features a jaw's harp though, an instrument I previously referred to as 'the thing which goes boing'. It has expanded my knowledge of obscure musical instruments if nothing else.
'A Young Trooper Cut Down' is also a traditional song which has been rearranged and it tackles a subject which affected many soldiers yet is seldom discussed – sexual health and the dangers of using prostitutes. 416,000 soldiers were treated during the course of the war for sexually transmitted infections yet it still the cause of death for many. A woman speaks of her experience of burying the war dead and the role women played due to a lack of men to undertake this gruesome task. Musically it resembles a children's nursery song despite the tragic content, a glockenspiel adds to the overall innocence of the melody. Another, 'Soldier, Soldier' is based upon a poem by Rudyard Kipling, it follows a conversation between a woman desperately trying to find out information about her lover from a fellow soldier who appears to have an ulterior motive. The music is kept simple with guitar and banjo providing the main accompaniment and interspersed with violin to add drama to the tale.
I had never given any thought to the difficult job postmen had during the First World War, often delivering bad news and causing anxiety as they strolled up the garden path. 'The Postman's Song' addresses this from the perspectives of the postman, as well as from those who are receiving letters. Musically, it mixes up traditional with experimental and the production on the vocals prevents it from becoming stale.
Returning to the subject of samples, those used on Raise a Glass to Danny effectively bring the story of 'The Piper of Loo' to life. Daniel Laidlaw was awarded the Victoria Cross for his bravery when he played his pipes whilst under heavy fire. He was buried in an unmarked grave despite his actions and the song is a celebration of his life and a recognition of his bravery. Starting with a banjo, it gradually moves towards a Celtic feel, Laidlaw's voice can be heard as he recounts the events and a sample of him playing the pipes is used to end the song which is very moving although somewhat eerie.
'Flander's Shore' is a reworking of a popular folk song and it's the perfect way to end the album.The talents of the musicians are showcased through a variety of instruments which add depth and poignancy to this song, once again managing to combine the traditional with a modern sound,
Overall, I enjoyed 'War Stories', it raises awareness of rarely discussed topics whilst highlighting the injustice of war. The songs initially appear simplistic however the arrangement and production is anything but; the overall effect being a very polished piece of work. I imagine this would appeal to those who enjoy traditional folk, those who appreciate songs which tell a story, as well as those with a keen interest in all things military.
I am far from being an expert in this genre of music but after hearing 'War Stories' I'm tempted to expand my musical knowledge into the often misunderstood world of folk. I would also be curious to see how this album transfers to a live setting and as Harp & a Monkey have a number of dates coming up, I will hopefully get to find out soon. Watch this space.
'War Stories' is out on 1st July and can be pre-ordered from the band's website
http://www.harpandamonkey.com