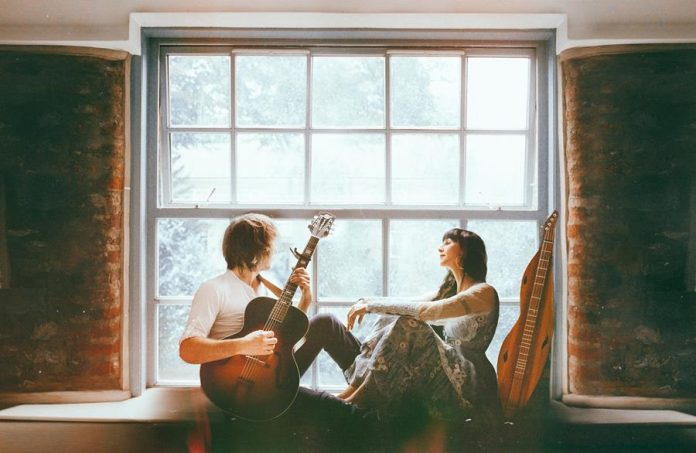 Two years ago, Hannah Sanders & Ben Savage stirred the folk and acoustic world with a stand-out debut album and there's been little slumbering since. Now they are set to release an arresting second studio album, 'Awake'. The combination of Hannah's outstandingly pure, clear voice, their perfect fit harmonies and Ben's exquisite dobro are the rock-solid foundations of this rising duo, first witnessed in the 2016 album, 'Before The Sun'.
When Hannah's folk family travels across Europe and sojourn in America ended and she returned to her native East Anglia, a chance meeting at a Cambridge folk club with The Willows band member Ben was the start of something special. Ben went on to produce Hannah's solo album 'Charms Against Sorrow' before they ventured into duo territory uncorking a beguiling, intricately woven, ethereal sound all their own.
Once again, they have returned to Toronto, putting Grammy-nominated Canadian producer David Travers-Smith (Madison Violet, The Wailin' Jennys) at the helm for this album crafted with infinite care. The 11-track release has six strong originals alongside innovative arrangements of traditional songs and captivating covers from the Pete Seeger and Woody Guthrie cannons.
Alongside Hannah's trademark mountain dulcimer and Ben's delicious dobro, they both play guitars on the album. Adding their magic are guest musicians from both sides of the Atlantic – from the UK Jon Thorne on double bass, Evan Carson on percussion and Norwich singer songwriter Jess Morgan, Katriona Gilmore and Jamie Roberts on additional vocals and from Canada Chris Coole on banjo, David Travers-Smith on horns and organ, Burke Carroll on pedal steel and on vocals, Vancouver-born American-Canadian alt country singer songwriter Suzanne Ungerleider who performs under the name Oh Susanna.
UK LIVE DATES 2018
4th May Roots Music Club, DONCASTER
5th May Wath Festival, WATH
6th May Todmorden Folk Festival, TODMORDEN
11th May Golden Hind, CAMBRIDGE
15th May Heath St Baptist Church, Hampstead, London
16th May Biddulph Arms, STOKE ON TRENT
17th May The Musician, LEICESTER
18th May Greystones, SHEFFIELD
19th May The Hive, SHREWSBURY
20th May The Cut, HALESWORTH
25th May Ireby Festival, IREBY
26th May Florence Arts Centre, EGREMONT
1st June Ashcroft Arts Centre, FAREHAM
2nd June Caryford Community Hall, CASTLE CARY
3rd June Matthews Hall, TOPSHAM
27th June Arts Festival, SOUTHWOLD
29th June Limelight Theatre, AYLESBURY
30th June Courtyard, HEREFORD
7th July Folk Festival, KIMPTON
20th July Downend Folk Club, BRISTOL
Hannah Sanders & Ben Savage: Website