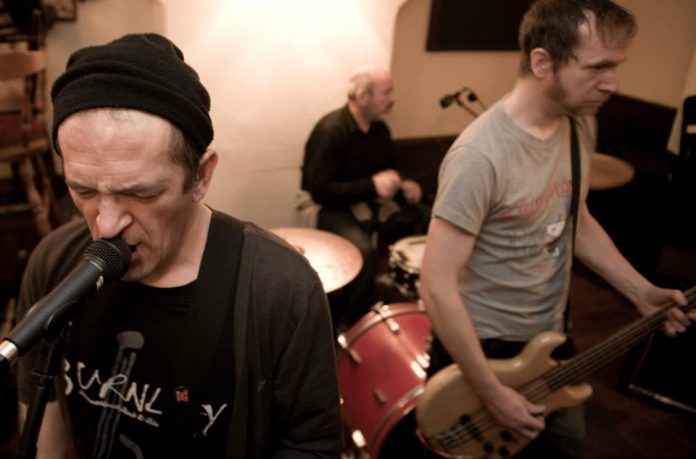 From: Hebden Bridge/Todmorden, West Yorkshire. Members: Steve Cullen (guitar/vocals), Jon Betz (bass), Dave Foulger (drums) & Sébastien Degorce (lead guitar)
We Were Lawless may have only played together for a relatively short time, but they're a band whose live gigs have an immediate impact on their audiences.
Describing their sound, one reviewer said: 'Imagine if Tom Waits had been put through a Queens Of The Stone Age blender and produced by David Lynch'. Intrigued? Well, with a live gig at Todmorden's newly re-opened Golden Lion and a host of new songs up on YouTube, you should be!
We Were Lawless formed when drummer Dave and bassist Jon started looking for a singer-songwriter with whom to join forces. Unbeknownst to them, Steve – a long-time friend of Dave's – had been writing songs in his cellar for years. When they formed a band (first known as Lawless). the meeting of Steve's lyrics and the music was effortless. As Steve says: 'the music writes itself'. With the final piece of the jigsaw filled for the band by Steve's recruitment, so too the band filled a niche for Steve , giving him the confidence to vocalise his lyrics. This essential connection between the band members is virtually tangible in their music.
Steve writes about the afflictions of modern times and, while the themes are sometimes difficult – suffering, poverty, addiction and war being just a few examples – the lyrics are nevertheless poetic. In fact, war poetry comes to mind, with the words stirring up a real sense of strength and rebellion in your soul. It's no coincidence that the name of the band was inspired by a book about war, We Were Soldiers Once… And Young written by Lt. Gen. Harold G. Moore (Ret.) and journalist Joseph L. Galloway. They wrote about the Vietnam War and used the last line of a war poem by A. E. Housman as the title for their book.
Far from being gloomy and dispiriting, the music has a positive and empowered feel to it and, judging by the band's many stories about random occurrences at gigs, they have no trouble exciting and inspiring a crowd. Tales of dancers being propelled into Northern Soul moves and teenage girls asking to drum while Steve sings, aren't unusual!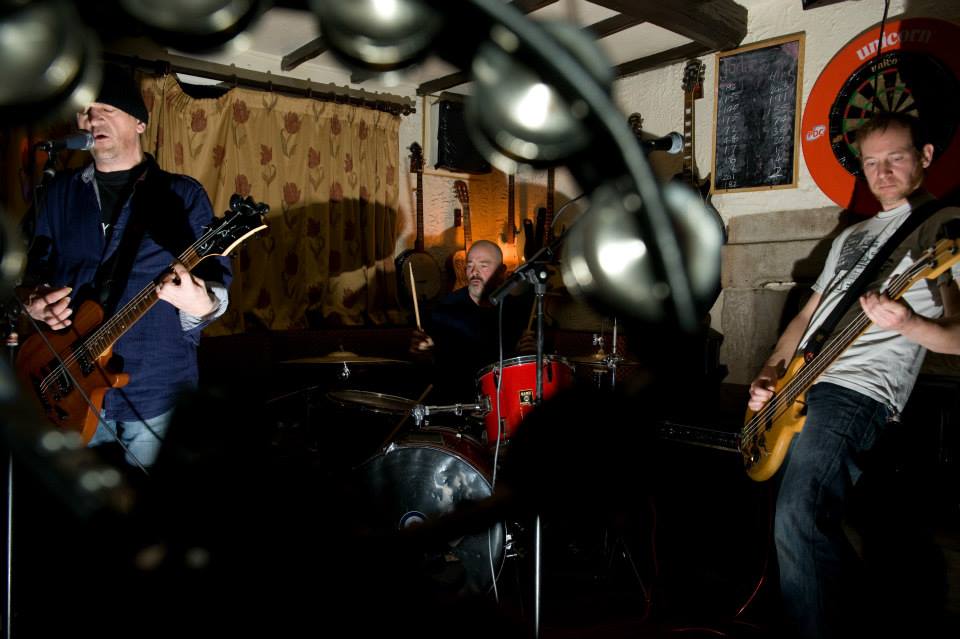 Ask We Were Lawless about their mission and the answer is resoundingly clear. They want to fuel inspiration in their listeners. Honing their craft at gigs in Manchester, Halifax, Morecambe and more, the band come into their own when they play live. Now their aim is to target the summer festival circuit and venture further afield with their live performances.
While not wanting to box their music, when pushed, the band are prepared to classify themselves as 'peasant rock' or 'gutter blues'. They see themselves as performing non-conformist music of the recusant people, for all people.
John F. Kennedy once said 'Conformity is the jailer of freedom and the enemy of growth' a sentiment that Steve shares . He says: 'We're all free. Rules and laws are put upon us. If you don't abide by them, you're in trouble. Why are we being told what we can and can't do? I'm not hurting anyone.'
Lawlessness usually has negative connotations but this band has turned it into a positive force.
We Were Lawless have self-recorded and produced all their music to date, all of which can be found on their YouTube channel.
https://youtu.be/g-S72YYK204
What's next? A new EP, to be recorded at Robin Wood Studios in Todmorden will see We Were Lawless' first outing with guitarist, Sébastien, who joined the band late in 2014. The band weren't looking for a fourth member but Sébastien slotted so easily into the Lawless sound by making the songs his own, that it became inevitable. Having lead guitar in the band has allowed Steve to concentrate purely on singing in several songs – 'I can now concentrate on roaring', he says with a grin.
Although Sébastien will temporarily return to France in September, We Were Lawless remain unfazed. Inspired by the Desert Sessions – a musical collective series, founded by Josh Homme in 1997 – the band employs a revolving door policy, allowing the music to be the constant, and musicians to come and go.( Homme brought together musicians from different bands at an old ranch-house filled to the brim with rare and unique recording equipment and instruments, explaining that, 'At Desert Sessions, you play for the sake of music. That's why it's good for musicians.')
The removal of constraints seems to promote the natural flow of music and ideas both for the Desert Sessions' artists and We Were Lawless. Come to the Golden Lion, Todmorden at 8pm on Friday 20th March and see what effect they have on you!
We Were Lawless are also supporting GBH in Luddendenfoot on July 4th 2015.
News about future gigs will be posted on this site.
We Were Lawless on SoundCloud:

We Were Lawless on YouTube: https://www.youtube.com/channel/UCgg8QLoRZFmPFdCbmynXS3A
We Were Lawless on Facebook: https://www.facebook.com/lawlessbanned

We Were Lawless photographs supplied by: Foulger Photography