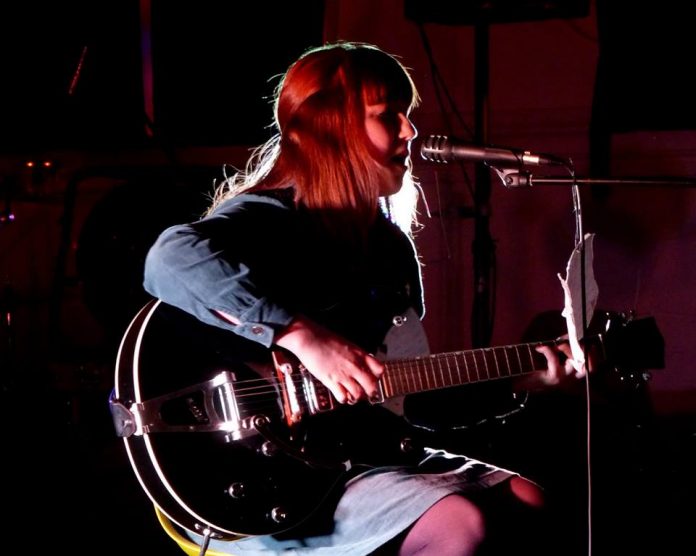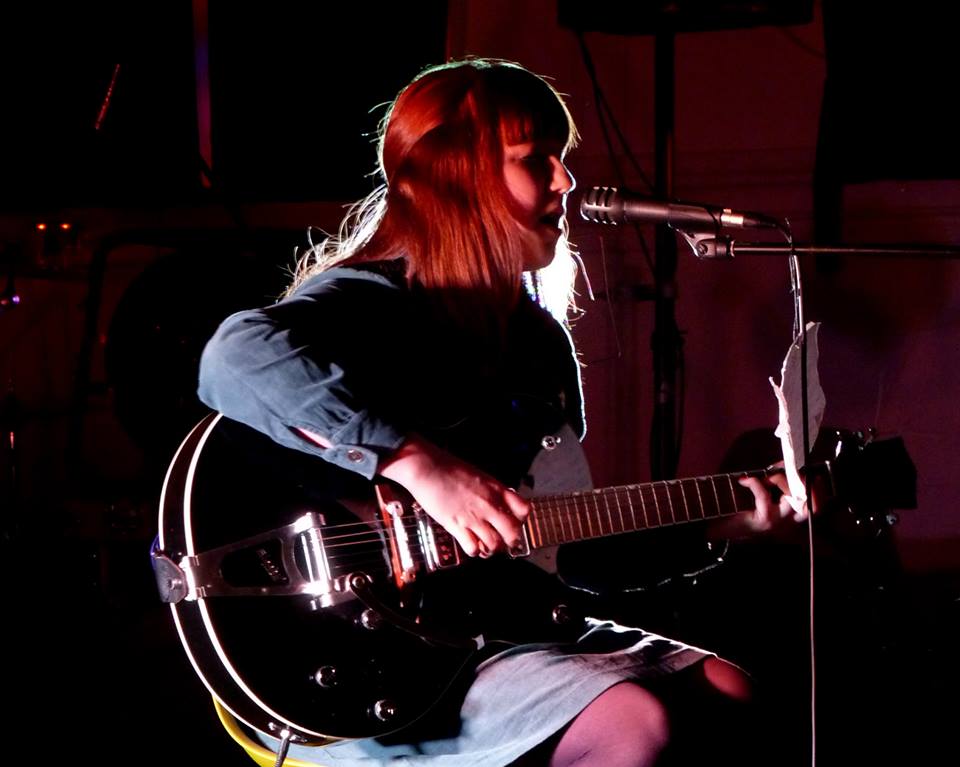 Sophie Cooper was recently asked by a parent who was signing up their child to her music classes if she did ''baby drone''. Her response was 'Erm, possibly next term'.
Todmorden-based performer, Sophie, produces an ethereal sound with many layers of texture. Her lyrics are sometimes poignantly clear but in some tracks are intriguingly distorted. Because of this layering of weird and wonderful sounds, Sophie has often been pigeonholed as 'psychedelic', but she prefers to describe herself as an 'experimental drone folk songwriter'.
The meaning of drone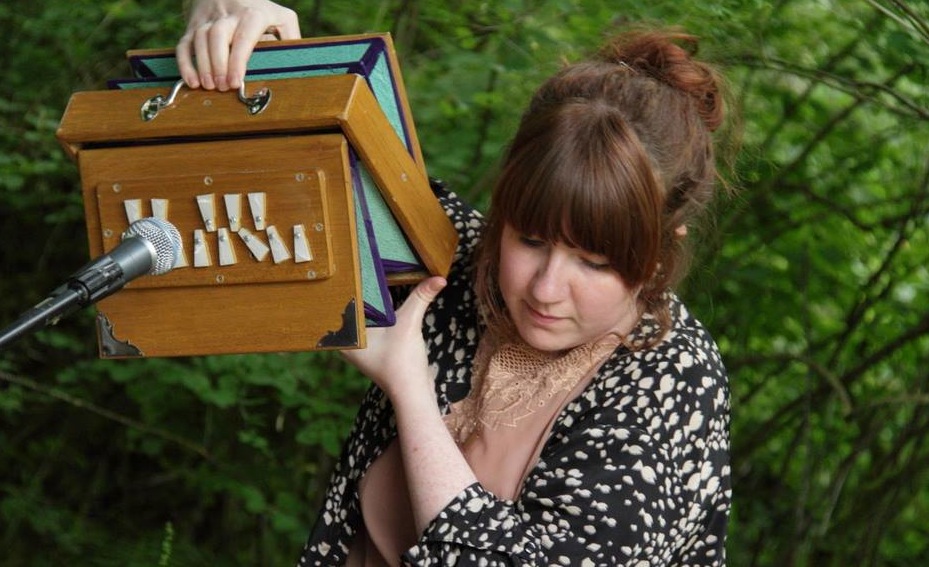 Experimental and folk aren't exactly new terms for most of us, but you might be forgiven for thinking that drone has something to do with aerial photography.
'Drone is about the continuous sound underneath the words,' Sophie explains. 'I've got a Shrutti box – from India, which you squeeze and air goes through it – producing a drawnout noise – and I use that quite a lot. I tend to tune my guitar to an open chord and use repeat finger picking patterns, largely inspired by 60's folk guitar players such as Bert Jansch, to play a piece. You could probably describe the overall tone this produces as a "drone" sound.'
Influence of folk
While acknowledging the influence of bands such as Pentangle and the Incredible String Band, Sophie doesn't see herself as neatly fitting anyone's idea of a folk singer. She says the folk influence mainly comes out in her love of telling stories through her songs, rather than her style of performing. 'Quite often in my songs the narrative is hidden away – not too overt. Someone once said that my music was about love and loss and I was a bit offended – because that makes it seem a bit shallow. Sometimes I'm tackling some heavy emotional subjects and I don't want to always have them on exposure to people.'
And what about the 'psychedelic' label that reviewers sometimes give her – is that something she feels happy with?
'Genre defining is always difficult and can be counterproductive,' Sophie says, 'but I think about psychedelic as the experience of taking yourself somewhere else, not really being aware of what you are playing. Although I use a lot of improvising when I'm writing, when it comes to performing I want to be in control and produce something I know I can be proud of – something that can be for keeps.'
Voice as an instrument
Being seen as "a singer" isn't something which Sophie feels particularly comfortable with. 'Singing for me is like having another instrument which is easy to take along with you because you don't have to carry it! I like to have a lot going on in my songs and I tend to have a lot of equipment to carry for live shows. Moving towards performing the words I wrote was quite a big step for me. Sometimes I will change the words of songs when I'm performing so I don't bum myself or other people out with feelings from the past. Some of my songs are very personal but I often use sounds to obscure the words so that I'm not giving too much away.'
One of Sophie's performance techniques is to let her songs run into each other – but on her albums each song is clearly individual. 'I often share bills with experimental noise artists who don't tend to perform songs as such, so I'm a bit on my own in this scene as someone who shows up with a guitar and sings. Merging songs together live is definitely an influence from my peers producing long ''one-track'' sets, in a way I'm trying to fit in,' she says.
Solo career
Until a couple of years ago Sophie was known as a guitar player – performing and recording with outfits such as Cooper-Jones, Leopard Leg, Wing Horses, Tom Cool, and Remedial Queen of England. Sophie had been playing guitar since the age of 13 but also singing in a choir and grew up listening to a wide range of music in her family home in Stoke-on-Trent. However she decided to study History of Art at Manchester because she felt that a formal music education didn't sit comfortably with her love of improvisation and experimentation.
'During uni I met lots of musicians, did lots of improvising and started putting on gigs. I put on a festival in Manchester when I was 18 – called LadyFest,' she says. She was also greatly influenced by experiencing Riot Girl bands like Le Tigre, Bratmobile and The Gossip. Seeing women leading performances was 'a real game changer' for Sophie and has continued to be a major influence in her life.
Moving North
Sophie was living in London when she met her partner Jake Blanchard (who runs Tor Press). She was newly back from a holiday in the States where she'd found New York City quite claustrophobic but had warmed to the country lifestyle of Saratoga. 'I came back thinking I want a bit of that and starting to question what I was doing in London,' she says.
'Jake comes from the Peak District and really wanted to move back up North. We'd also come across wonderful people like Ned Netherwood – this crazy guy who was reviewing music in the Calder Valley – so we knew there was a really good music scene up here and the countryside was a big draw.
Since her move to Todmorden, West Yorkshire, Sophie's noticed a major boost to her creativity (she's released two solo albums and one collaboration) – which she attributes both to the healthier lifestyle but also the supportiveness of local artists.
Warm welcome
She says: 'When I first moved up I hadn't really played a solo show before and told a friend I wanted to do a gig – so my friend put me on as headliner in Manchester. I dragged in a couple of talented musicians to be my band and we had a really great turn out. I felt as though the audience was full of people who were really happy for me to be playing – which was lovely!'
Since becoming part of the local scene Sophie has played at venues in Leeds, Bradford and Hebden Bridge but also toured in Ireland and performed at festivals in Austria and Wiltshire. She's also about to make her debut in her adopted home town of Todmorden – performing on Good Friday at the newly opened Fundevogel Cafe.
Opening up the local scene
Sophie has certainly been one of the people opening up the music scene in Todmorden to new audiences. Last year, together with partner Jake, she organised the Tor Festival based in Todmorden.
And a second festival is planned for August this year. 'We wanted to involve national artists, or even international artists who wouldn't normally play somewhere like Tod, but might play Leeds or Manchester,' she says. 'Tor Bookings doesn't personally make any money – all the takings go to the bands and are split equally. We might give headliners a bit more if they've come over from the States or somewhere else far away, because they have costs to cover but even the proceeds from the bar go back into the pot. So very local people get a fair share of the profits.'
Sophie is on a mini-tour of Leeds, Brighton and London towards the end of March 2015. Full details can be found on her website and to listen to samples of Sophie's music visit her SoundCloud page.
Sophie's website: http://sophiecoopermusic.com/events/
Sophie on SoundCloud: https://soundcloud.com/sophie-cooper