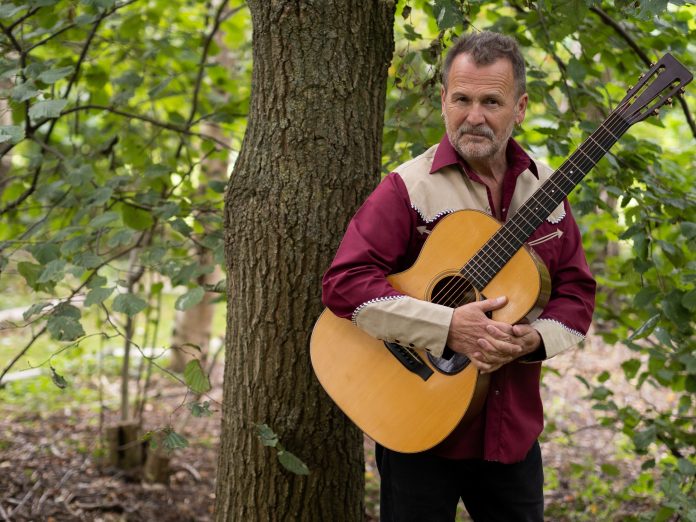 Martin Simpson, widely recognised as one of the world's finest guitarists, is performing in the Green Room Bar at the Victoria Theatre, Halifax on Sunday 13 March.
The remarkable intimate solo performances Martin gives go from strength to strength – every gig is a masterclass. He travels the length and breadth of the UK and beyond, giving rapt audiences passion, sorrow, love, beauty, tragedy, and majesty through his playing.
"What's it like being the best guitar player in the world…?" Martin's modesty and grace prevented him from answering this BBC Radio 4 interviewer's question recently, but the facts speak for themselves. 40 years after he recorded his first album, Golden Vanity, in 1976, Martin is known as a guitarist of formidable talent and is equally at home playing English traditional folk, American folk and blues and his own compositions.
Universally acclaimed as one of the finest ever acoustic and slide guitar players, and a fine banjo-picker to boot, his solo shows bear witness to an artist at the very top of his game. Whether interpreting material from tradition or singing his own potent self-penned songs, Simpson is a remarkable storyteller: captivating and profoundly moving. His own song writing produced the poignant 'Never Any Good', from Prodigal Son, 2007's Folk Album of the Year.
In recent years, he has been a lynchpin in the award-winning Full English, The Elizabethan Sessions and, in 2015, recorded Murmurs, an exciting new album with Andy Cutting and Nancy Kerr. Martin's most recent album was released in November last year to the usual critical acclaim. 'Home Recordings' was recorded at his home by his regular producer, now neighbour, Andy Bell, and finds Martin singing and playing, literally amongst his beloved guitar and banjo collection and out on his Peak District-facing porch.
He has had the most nominations of any performer in the 18 years of the BBC Radio 2 Folk Awards, an astonishing 32 times, 13 of those as Musician of the Year, winning that particular accolade twice and he is listed in Gibson Guitars' Top 30 Acoustic Guitarists of all time. Acoustic Guitar readers also voted him number 12 guitarist in the world in 2005.
Tickets for this show are available from £19.75. Purchase tickets online, www.victoriatheatre.co.uk, or by calling the Box Office on 01422 351158