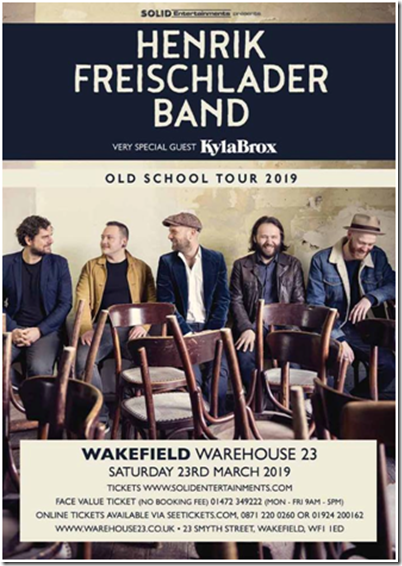 After countless of musical experiments, whether as a trio or an international eight-piece big-band, Henrik Freischlader has reverted to his heart music – the Blues!
Henrik is completely self-taught on the guitar and as stated by himself he uses no particular technique, but rather plays with his intuition and emotion. When he picks up the guitar one can here honesty, depth, maturity and overall serious dedication in his playing, all delivered to the highest standard. Through his music he communicates what he has to say – each note is an expression, speaking the timeless and living language of the Blues!
Old school is the new rule: Touring in a van and performing live with a tight band in original clubs for the true music lover! Those longing for authenticity and a great atmosphere look no further!
It is the band members' love for 'hand-crafted' music, particularly Blues & Soul, which connects and drives the five musicians. They skilfully perform their musical parts with effortless ease, but never lacking the most important ingredient – being able to play their instrument with pure passion. Each band member is unique, but no one takes themselves too seriously – they all share the same view on the importance of musical creation.
Advance tickets are £16.00 and can be booked online at http://www.solidentertainments.com/presents.htm#HENRIK-WAKEFIELD
Face Value Ticket (No booking Fee) on 01472 349 222 (Mon – Fri 9am – 5pm)
You can see, hear and find out more about Henrik at https://www.henrikfreischlader.de/