An evening of ballet music:
Masquerade Suite Khachaturian
Rodeo Copland
Romeo and Juliet Suite #2 Prokofiev
Swan Lake Tchaikovsky
Halifax Symphony Orchestra
132 years old, the Halifax Symphony Orchestra is one of the UK's oldest non-professional orchestras. Members come from all walks of life from within and around Calderdale and beyond, and share a passion for playing together. The players are variously teachers, semi-professionals, and retired professionals along with a positive group of dedicated amateurs.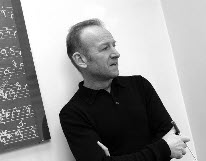 Conductor – Nicholas Simpson
Nick was born in Manchester.
He read law at Nottingham University, and for ten years played in rock bands, making a small but still faintly detectable impact on 1980s pop, before studying composition and conducting at Trinity College of Music in London.
At Trinity he had lessons with John Tavener, winning the Chappell Prize for composition and the Ricordi Prize for conducting (twice). In 1987 he was a finalist in the national Yehudi Menhuin and Royal Overseas League competitions, and whilst still a student his first string quartet was given by the Roth Quartet at the Purcell Room.
In the 1990s Nick earned a living as a criminal lawyer, composing in his spare time, but resigned to concentrate on music upon moving back to Manchester in 1998. His music has been played by artists as diverse as the Composers' Ensemble, the BBC Symphony Orchestra and the English String Quartet, both in Europe and the USA. He has written music in a wide variety of genres, including two symphonies and many chamber pieces, and is one of a small (and undistinguished) number of people whose work has been played both on Radio 1 and Radio 3.
In 2003 he began an association with the award-winning Sound Inventors composition in education team, leading further courses in 2005. He has twice been nominated for the British Composer Awards, most recently for his oratorio Recreation, completed in 2004 whilst Composer in Residence with Sale Choral Society. His Symphony No.2 was recorded by the BBC Philharmonic Orchestra in April 2005 and broadcast on Radio 3 last summer. His new piece for the Fell Clarinet Quartet, Mardale Changes, received its premiere at the Bridgewater Hall, Manchester in December, and he is now working on a third Symphony.
In addition to his work with the Halifax Symphony Orchestra, Nick Simpson is Music Director of the Gorton Philharmonic Orchestra, Manchester. He is married and has three children. In idle moments he plays guitar in the R&B band Los Galacticos.
(Information sourced from the Halifax Symphony Orchestra. If you're interested in finding out more, follow the link.)
Tickets: Obtainable online from www.squarechapel.co.uk or in person at the Box Office