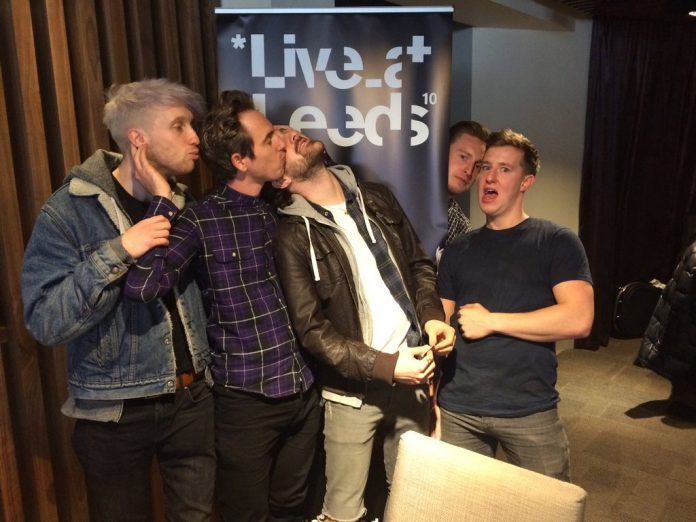 After branching out to Leeds and Reading Festival last year alternative rock band Where Fires Are are back in their home town Leeds to perform at Live at Leeds Festival. For over two years they've been debuting unique rock music providing us with passionate guitar riffs mixed with atmospheric keyboard melodies and heartfelt lyrics. The band have already attracted the attention of BBC Introducing and are hoping to impress at Live at Leeds ahead of their new single this Autumn.
LSF: You played Reading and Leeds Fest last year, how does playing festivals compare to touring?
Where Fires Are: It's a very different experience. The festival vibe is special, everyone's there together and it's all about the experience. The vibe of festivals makes it really easy to get into the mind-set. Sometimes you'll turn up to a gig and there will be problems with the set up, you've rushed over from a different city and it can be difficult to get into the performance frame of mind but at a festival you're just there and ready to go.
LSF: How did you meet and what works about you as a band?
WFA: We all met at Leeds College of Music and we came together after we graduated two and a half years ago. As for how the band works, definitely patience. We all understand and accept each other's flaws but we write together very well and have a lot of fun together. If we ever have an argument it always ends in laughter, we can all take a joke and we always come back together as a band.
LSF: Has playing festivals help you establish a solid fan base?
WFA: I think in Leeds we're definitely getting there, our local gigs recently have gone really well. Definitely after playing Reading there was an increase in support and coverage on social media. Until then our fan base had mainly been up here in the North but at Reading we got the chance to play to people from all over the country. We've had messages from people in the South saying 'when are you coming back' 'can you play here' which is really amazing. We played Darwen Live Festival in Blackburn which isn't a very big festival but it's one of the best we've played. We played to over 1000 people and it was just an amazing opportunity and experience.
LSF: What experience do you aim to give the audience when you're playing?
WFA: We have a lot of material now so it's getting difficult to choose what to fit into a half hour set but I think the main thing is catering to your audience. For today because we're outside every song is punchy and hard hitting to show everyone a good time and grab their attention. We have a very ambient and atmospheric side to our stuff that would work for a smaller gig. Our performance has definitely changed over time, we just get in to it. We pull out some strange shapes and moves sometimes but we just want our audience to enjoy it as much as we do.
LSF: What's your favourite aspect about playing live music?
WFA: The idea that people are enjoying the music we've spent so much time putting together and having the opportunity to share our music with people. We spend so many hours rehearsing and making music when we get to play the feeling is just second to none. The escapism and the adrenaline rush you get is amazing and it's amazing that our fans can share that with us.
LSF: Who will you be seeing at Live at Leeds Festival?
WFA: There's so much good stuff on we could sit here all day and talk about the amount of great bands. The main one is We Are Scientists, we've been listening to their music for 10 years and they just put on a great show.