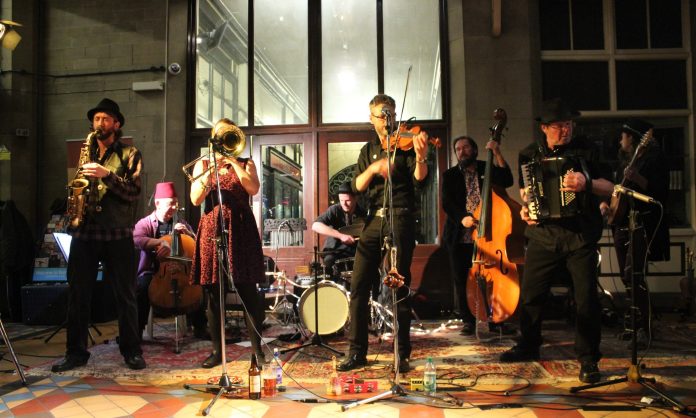 For the uninitiated, klezmer is Eastern European dance and celebration music that in it's most known form also includes elements of early 20th Century jazz. (See this Wikipedia Page if you'd like to learn more) KLONK however bring this right up to date by adding their own ingredients into the mix.
These are instrumental tracks but don't let that put you off. Given the right party they'll definitely get the place moving. My listening environment was an office and I'm guessing this isn't the kind of venue KLONK had in mind for their music.
The EP kicks off with 'Misirlou' – for me the least successful track of the four. Yep, this is the Dick Dale & The Del Tones track used in Pulp Fiction. The intro works but after that it settles into a groove that doesn't seem to go anywhere, and the track seems significantly restrained by the production.
'Bante Vantul Frunzele' (a track written by Dragi Sestic) is up next, and this is more like it. The production on this is slightly looser and it's all the better for it. Lovely fiddle, and the trombone and sax breaks taking the track in a jazz direction. KLONK I'd like to hear more like this please!
There's a ska shuffle feel to 'Ot Azoi' that I really enjoyed. With this track KLONK have really added something of their own to a klezmer standard. If you need a musical reference think 'Night Boat to Cairo'. The chanted vocals that punctuate the track made it for me.
The final track 'Goldene Khazene' – another klezmer standard – again has that looser feel, and it really had my toes tapping. This really swings.
So would I recommend this? Well yes I would. It may take you a few listens to 'get it' if you've not heard this sort of music before (and the tracks being available on Bandcamp mean you can do that). Maybe it's a degree cooler than 'smoking hot' but it's still bubbling away nicely.
KLONK Website: http://www.klonk.co.uk
Catch KLONK Live: Puzzle Hall Inn on the 26th June