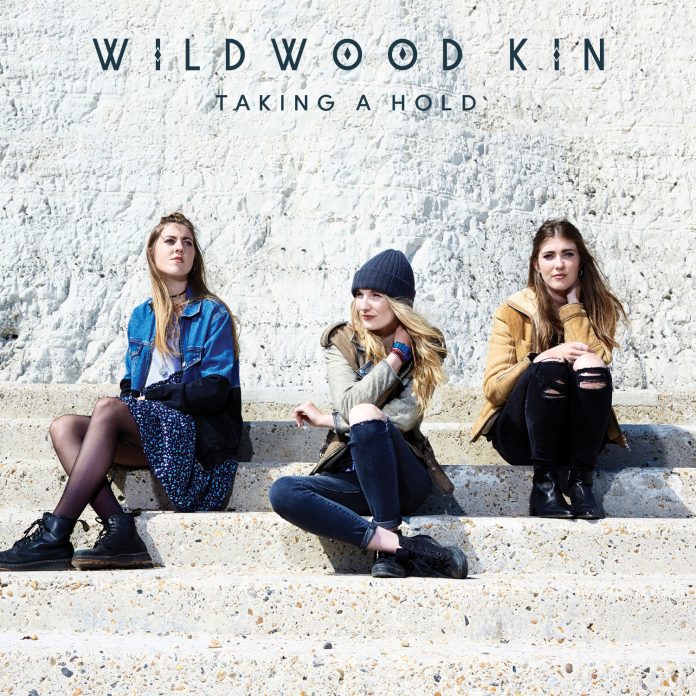 A live favourite and the second to be taken from the album, 'Taking A Hold' exhibits the girls' gorgeous harmonies and infectious guitar lines throughout. Opening with haunting vocals, the epic track builds to a crushing drum led climax.
Watch the band play the track live at this year's Glastonbury
https://www.bbc.co.uk/events/ec584f/play/p056f6ty/p056w2d3
Wildwood Kin, a family trio formed in Exeter, borrow heavily from early folk influences, but their extraordinary debut album delves deeply in to other genres, featuring both electric and acoustic instruments. It boasts inventive sonics and spectral atmospherics alongside their sublime three-part harmonies.
Guitarist Emillie Key, her bouzouki/keyboard-playing sister Beth and their drumming cousin Meghann Loney all sing, swapping leads on original songs, and joining forces on harmonies that have become their trademark, inviting comparisons with the likes of Haim, Crosby, Stills and Nash and Fleetwood Mac.
Being tipped by the likes of Jo Whiley, Mark Radcliffe, Steve Wright, Bob Harris and Jamie Cullum and having previously toured with Seth Lakeman and Ward Thomas, the band are set for a UK headline tour this autumn. Before that the girls will play a slot at BBC Radio 2's 'Festival in A Day' in Hyde Park on September 10th.
Wildwood Kin play the following headline shows:
July 2017
Sat 22nd LONDON, Canada Square Park
Sun 23rd STRATFORD ON AVON, ROYAL SHAEKSPEARE THEARTE
Fri 28th CAMBRIDGE FOLK FESTIVAL
Sat 29th EXETER, SHELDON OPEN AIR THEATRE
August 2017
Wed 2nd LONDON, The Islington
Sat 5th MORETONHAMPSTEAD, LANGALAND FESTIVAL
Sun 13th BOARDMASTERS FESTIVAL
Sat 26th GREEN BELT FESTIVAL
Sun 27th LIVERPOOL, Folk On The Dock
September 2017
Sat 9th HONITON, SMOKED AND UNCUT FESTIVAL
Sun 10th LONDON, RADIO 2 HYDE PARK
October 2017
Weds 4th PORTSMOUTH, Square Tower
Thurs 5th BRISTOL, Louisiana
Sat 7th LONDON, BUSH HALL
Thurs 19th CAMBRIDGE, TURNING TIDES TOUR
Sat 21st LIVERPOOL, Magnet
Tues 24th MILTON KEYNES, TURNING TIDES TOUR
Weds 25th MANCHESTER, Night and Day
Thurs 26th GLASGOW, Stereo
Sun 29th LEEDS, Headrow House
Mon 30th SHEFFIELD, TURNING TIDES TOUR
November 2017
Weds 1st BIRMINGHAM, Glee
Thurs 2nd CARDIFF, Glee
Fri 3rd BATH, Moles
Mon 6th LONDON, Borderline
Tues 7th BRIGHTON, Hope and Ruin
Weds 8th NOTTINGHAM, Glee
Thurs 9th NORWICH, Waterfront
Fri 17th TRURO, Old Bakery
Sat 18th TAUNTON, Brewhouse
Tickets on sale Now. Album bundles available from https://store.wildwoodkin.com/
https://www.facebook.com/wildwoodkin/
https://open.spotify.com/artist/2KOxHm9lGE9lFZDQdebD6B
https://soundcloud.com/wildwood-kin