Ahead of their headline show – 3 September at The Brudenell, Leeds – Talkboy have unveiled new single Why Don't You Love Me Lana Del Rey today – a woozy, rose tinted ode to unrequited feelings and what could have been.
Co-vocalist and guitarist Tim Malkin explains, "I don't think it's really worth saying exactly what the song is about as I think this one in particular gives a very clear overall mood. I also don't really know what it's about. I was getting really bored of writing super specific songs about stuff that had exclusively happened to me, and on top of that, who even cares? I think overall it's about surface level encounters – how they are usually thought to be bad but can also be good. It was written just after lockdown one and I think I had quite a romantic yearning to speak to someone outside a pub about Neil Young in 1974"
Created and produced by 10 Days, the video tells a dark tale of bliss and revenge starring an adorable purple monster falling in love with a Lana Del Rey lookalike. The film was part of a unique brand collaboration with the crowd sourced sustainability platform Wherefrom.
The info
Known for their playful, slightly off-kilter, big and bright sound, Talkboy draw inspiration from a Pandora's box of bands – Fleetwood Mac, The Beatles, through to modern contemporaries such as Alvvays, The Big Moon and Phoenix.
Talkboy's first EP Over and Under (2019), recorded with Mickey Dale (Marsicans), gained plaudits for its shimmering melodies, with particular focus on the shared vocals. Singles from the EP landed placements in Spotify's New Music Friday UK, The Indie List, and Hot new Bands, alongside further support from BBC 6 Music and BBC Radio 1.
The band have been fortunate enough to play a host of festivals such as Reading & Leeds, Live At Leeds, Blue Dot and Y Not? in the UK. Other highlights include supporting The Howl & The Hum, Declan Welsh and The Decadent West, and Honeyblood.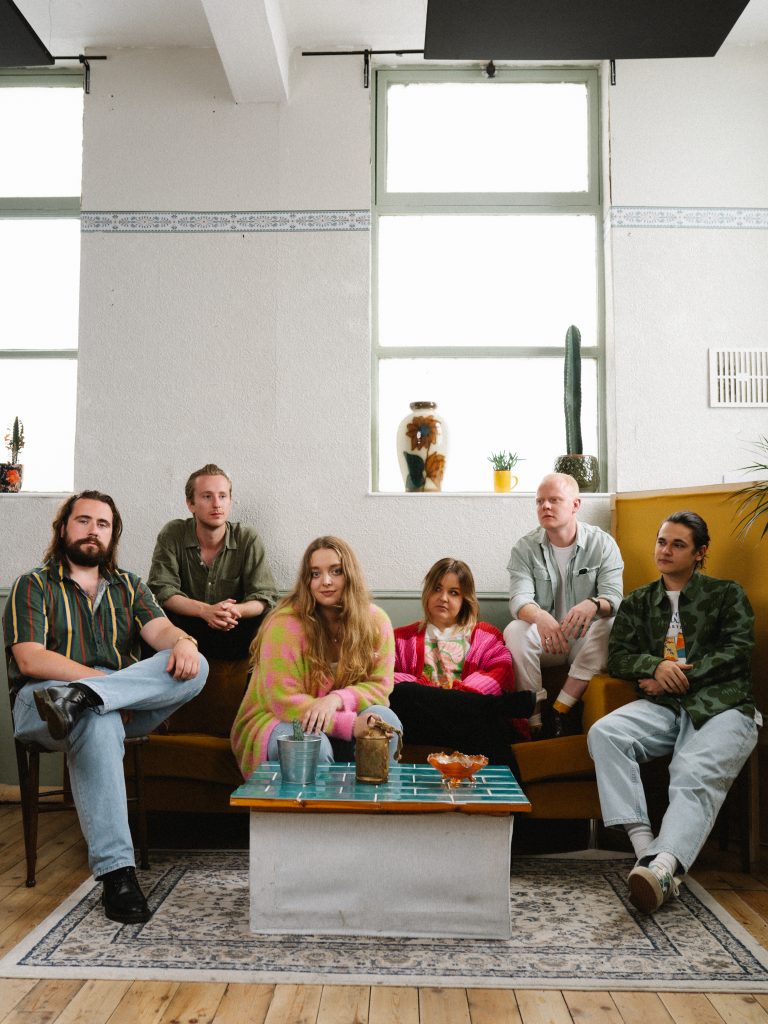 Katie Heap – Vocals
Ryan Hawkins – Vocals / Guitar
Tim Malkin – Vocals/Guitar
Charlotte Jones – Vocals/Keyboard
Tom Sargent – Bass
Jake Greenway – Drums
https://www.facebook.com/talkboyyy
https://twitter.com/talkboyyy
https://www.instagram.com/talkboyyy