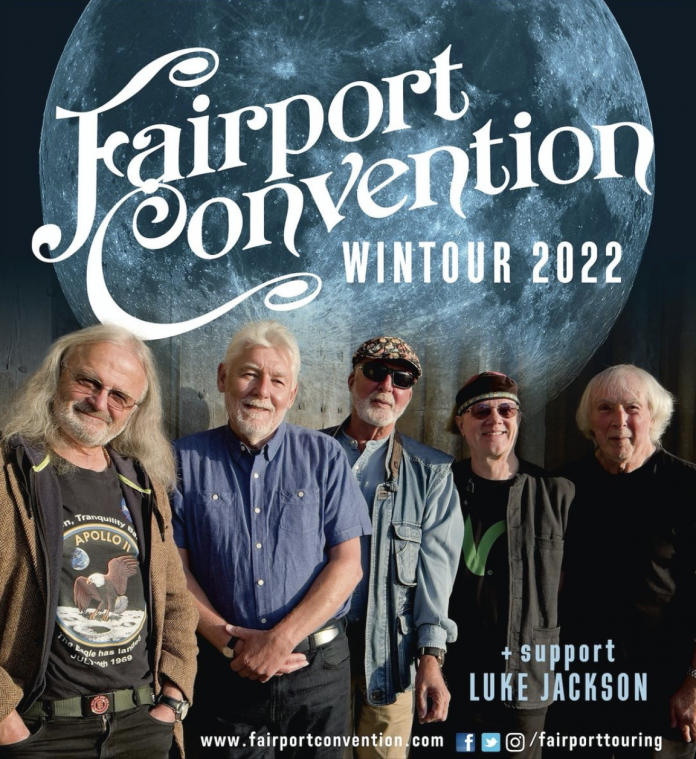 Having entertained music lovers for over half a century, 2022 sees Fairport Convention celebrate the 55th anniversary of the band's original formation back in 1967. During that time, the group that launched British folk-rock has seen many changes, but one thing has remained the same – Fairport's passion for performance.
The band's original members met in 1966, rehearsing on the floor above Simon Nicol's father's medical practice in a house named 'Fairport' in Muswell Hill, London. The building's name would lend itself to the band's moniker upon their 1967 formation.
This year's Winter Tour has just kicked off and presents a mix of long-established Fairport favourites and some surprises from releases old and new, including their latest album, Shuffle & Go, which was released just before 'lockdown' in 2020.
Fresh off of the back of their hugely successful Autumn live dates, the upcoming tour will see the band play iconic venues such as London's Union Chapel, Manchester's Royal Northern College of Music and the City Varieties Music Hall in Leeds.
The band features founding member Simon Nicol on guitar and vocals, Dave Pegg on bass guitar, Ric Sanders on violin, Chris Leslie on fiddle, mandolin and vocals, and Gerry Conway on percussion.
Joining the band on the tour will be special guest singer/songwriter Luke Jackson – a wonderful performer gaining much recognition for his recorded work, as well as his live performances touring the UK, Europe, and America.
Fairport Convention Winter tour 2022
Thur, 03rd Feb 2022
Exeter
The Corn Exchange
Fri, 04th Feb 2022
Swansea
Taliesin Theatre
Sat, 05th Feb 2022
Bath
The Forum
Sun, 06th Feb 2022
Winchester
Theatre Royal
Tue, 08th Feb 2022
Solihull
The Core
Wed, 09th Feb 2022
Lincoln
New Theatre Royal
Thur, 10th Feb 2022
Stockton-on-Tees
ARC
Fri, 11th Feb 2022
Leeds
City Varieties Music Hall
Sat, 12th Feb 2022
Bridlington
Spa Centre Theatre
Sun, 13th Feb 2022
Manchester
RNCM Theatre
Tue, 15th Feb 2022
Canterbury
Colyer-Fergusson Hall
Wed, 16th Feb 2022
Bexhill
De La Warr Pavilion
Thur, 17th Feb 2022
Worthing
The Connaught Theatre
Fri, 18th Feb 2022
London
Union Chapel
Sat, 19th Feb 2022
East Grinstead
Chequer Mead Theatre
Sun, 20th Feb 2022
Loughborough
Town Hall
Tue, 22nd Feb 2022
Milton Keynes
The Stables
Wed, 23rd Feb 2022
Peterborough
Key Theatre
Thur, 24th Feb 2022
St Albans
St Albans Arena
Fri, 25th Feb 2022
Wimborne
The Tivoli Theatre
Sat, 26th Feb 2022
Farnham
The Maltings
Sun, 27th Feb 2022
Bury St Edmunds
The Apex
Tue, 01st March 2022
Walsall
Walsall Arena
Wed, 02nd March 2022
Whitley Bay
Playhouse
Thur, 03rd March 2022
Morecambe
The Platform
Fri, 04th March 2022
Southport
The Atkinson Theatre
Sat, 05th March 2022
Buxton
Arts Centre