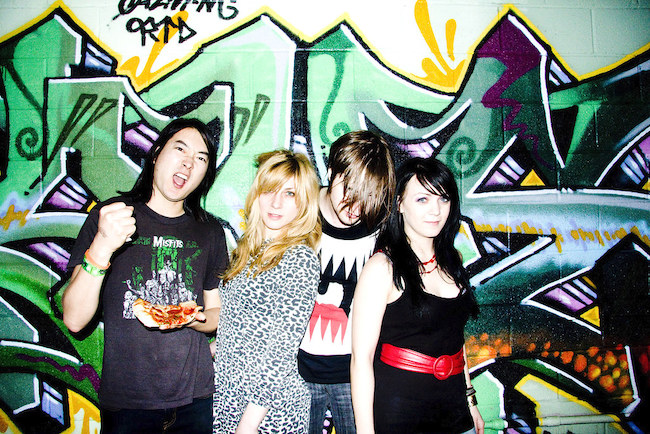 This year marks the twentieth anniversary of the birth of The Von Bondies, a key band in the American garage-rock movement that spread its way across the globe in the early 2000s. Formed in Detroit by singer/guitarist Jason Stollsteimer during an aborted stint at university, he rooted the band's sound in the youthful energy of punk and the emotional rawness of the blues. "If somehow it had been possible for Jason and me to have had a baby instead of a band when we first started out," says Donny Blum, longtime drummer of the band, "that baby would now legally be able to drink."
In celebration, the Von Bondies are getting together to play a string of dates in the UK this summer, their first shows in a decade. "We're doing the UK first because England was the first country that really embraced us," says Stollsteimer. Indeed, those early UK shows would lead to dozens of festival slots—playing Glastonbury as well as Reading and Leeds Festival two separate years—in addition to appearances on Later with Jools Holland and a couple of Peel Sessions at the BBC. The band's major-label debut 'Pawn Shoppe Heart' spawned the single 'C'mon C'mon', a ubiquitous part of the soundtrack to young Britons' rowdy Saturday nights out.
This summer's eight-show tour will take the band around the UK from Birmingham to Brighton, including stops in London and Glasgow. "I think it's a great time to do this," says Blum. "We've always known that at some point we were going to do more shows. Especially with the world on fire the way it is now, we want to do it before it all burns down".
Full dates here, tickets go on sale on Friday 31st January.
Thu 14 May – The O2 Institute – Birmingham
Fri 15 May – The Wardrobe – Leeds
Sat 16 May – DSCVR Festival – Leicester
Sun 17 May – O2 Academy Islington
Tue 19 May – The Fleece – Bristol
Wed 20 May – King Tut's Wah Wah Hut – Glasgow
Thu 21 May – Gorilla – Manchester
Fri 22 May – Concorde 2 – Brighton