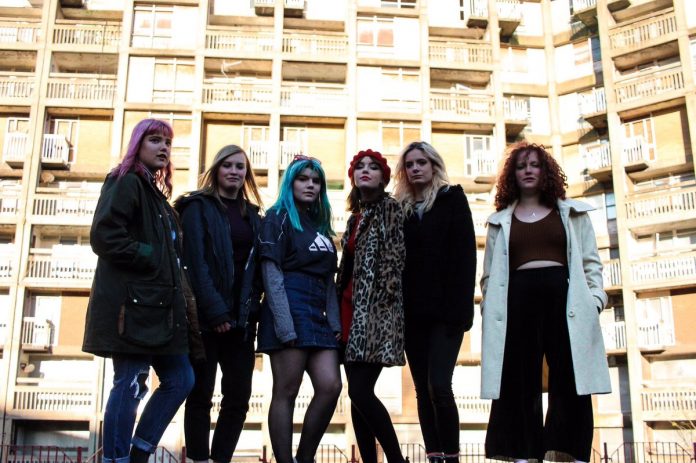 The six-piece formed in 2013 and have played Tramlines along with a host of headline and support gigs in and around Sheffield. They've played with The Rifles and supported various local bands like TRASH and Bayonet, and with an ever growing fan base on social media they hope to start playing gigs all over the country.
I first came across The Seamonsters in one of those random link clink sessions you do when you have the odd 20 minutes to pass. I was intrigued by their sound which reminded me of those 'jangly guitar off-kilter drum rhythms' bands I was listening to in the 80s. The band themselves describe their sound as 'catchy guitar riffs with angelic vocals and interesting drum beats'. Although there's a lot more to their 'glitter' sound than that.
The band they most reminded me of was Girls At Our Best (The Seamonsters are the band I'm referring to in my column on GAOB). They also win huge points from me in mentioning Altered Images – one of my favourite bands from the 80s – as an influence.
But before you write them off as retro copyists, they add in more recent influences and of course that sprinkle of glitter to produce their own unique sound. It's music that'll make you smile, and we all need a little glitter in our lives.
The Q&A
I posed the questions Ciara (drummer) and Lauren (bass) gave the answers.
How did the band get together, and how long have you been together?
The band got together about four years ago but we just played covers and did a few small gigs, we haven't started taking it more seriously until recently. Most of us met through a drama group where we were cast in the parts of seamonsters, hence the name.
In your description of your music the word 'Glitter' features heavily, how does this relate to your sound?
We love glitter and we tend to always wear it for gigs, in terms of it relating to our sound the new keyboard parts are very twinkly and glitter like. I think also a lot of our composition of structure relies on adding interesting melodies and harmonies and rhythms on top of the existing parts and that maybe brings out unexpected elements by using significantly contrasting parts which I suppose could be compared to the many different colours that combine to make glitter as complex and appealing as it is.
Band influences? I find your sound interesting because to my admittedly rather ancient ears I hear hints of 80s bands like Fuzzbox, bands like Orange Juice, Girls At Our Best, and even some of the 'Twee bands' like Talulah Gosh, so I was wondering whether your influences went as far back as that?
We often get compared to 80s bands and I'd say our new songs we've been writing are even more heavily influenced by the 80s. We have such a large range of influences as each member has very different styles but we're definitely influenced by bands like Pulp, Altered Images, Smashing Pumpkins and Blondie, as well as more recent bands like The Wombats and Black Honey.
Do you have a main songwriter or is writing more of whole band thing?
We tend to all write our own parts, this is the way that seems to work best for us.
How do your songs come together?
Often one of us will come up with a guitar riff and then we'll play around with the other instruments and try and fit all our ideas together. As there's six of us it can sometimes be quite hard to pull six different ideas into one song but it often makes for a more interesting outcome (or we think so anyway).
You've got a upcoming slot at Outlines, how are you feeling about that? Are you hoping that it's going to get your music out to a wider audience?
We're really excited for Outlines! It's great to be on a bill with lots of great bands and we can't wait to go see some of them as well as playing our set. Hopefully playing Outlines will mean some people who've never seen us before will get a chance to and maybe some new people will discover us, it's great that festivals allows that to happen.
I understand you have a new single coming out, can you give some us hints about it or are you keeping it under wraps?
We don't have a confirmed date for it yet but it's called 'Lost (and Found)' and we think it's a lot better than the demos we currently have out. We can't wait to have our music on platforms like Spotify so a wider audience can hear it, there's also going to be a music video which we're currently filming and is looking very cool.
What's been the most difficult thing in progressing the band forward?
Often finding time to do things can be hard as we're balancing band and A levels but next year we'll have much more freedom.
Highlight so far?
The highlight for us so far is hearing our new single and I'm sure our next highlight will be releasing it!
The info
Band members
Naomi Mann – lead vocals
Lauren Smith – bass
Holly Thompson – lead guitar
Tassie Drobinski – rhythm guitar
Ella Taylor – keyboards
Ciara Hurding – drums
Links
https://www.instagram.com/the_seamonsters/
https://twitter.com/cmonstersmusic
https://www.facebook.com/TheSeamonsters/