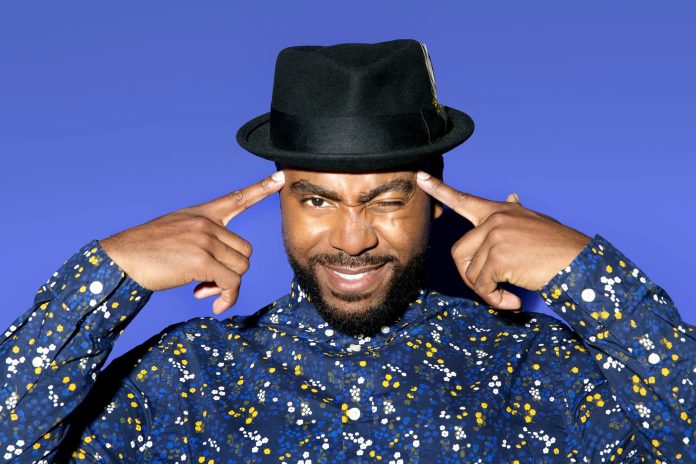 Jodie Abacus hails from south London (Lewisham to be precise). He became somewhat of an internet sensation when his track 'I'll be that Friend' had 100,000 hits in week. With tunes such as 'Hot Kitchen' and 'Good Feeling' his music has a happy, up-tempo rhythm, which gets the hips a-rocking!
Before his gig supporting Laura Mvula (see the review here), I had the pleasure of chatting with Jodie Abacus, and what a lovely, laid back, easy to converse with guy he was.
LSF: Laura Mvula is pretty huge … How did you end up supporting her?
Jodie: After you're on radio and all sorts of things, people take a liking to you … You get picked out of a bucket, this is how I imagine it … You get picked out of a bucket of the best … along with all the connections and you get put on.
LSF: Your tune 'I'll Be That Friend' got 100,000 hits in the first week. That's phenomenal!  People are excited if they get ten likes on Facebook, you got 100, 000 hits in ONE WEEK … What is it about that tune that resonates with people do you think?
Jodie: It was amazing … what happened was, one day I was at home and my manager called me up and said, "mate have you been listening to the radio? Zane Lowe just played your song 'I'll be that friend" … following this, it was on sound cloud already, it just blew up …..the internet blew up…people warmed to it. I wrote it as a very honest song. Something quite dear to my heart. I think it forms a connection with people straight away. It makes people very happy or gives a sad reminiscent feeling of someone they care about. My emotion is very much trapped in the song because the place where I was when I wrote it, I was feeling very low, I was feeling very sad and the sentiment behind was if I could have come outside of myself give myself a hug I would … if I knew someone who felt the way I did, I would give them a hug. I wrote that song in a room with a broken piano, a red light, a chair and a bed.
LSF: It clearly chimed with people.
Jodie: Yeah, my goal is not just to make music but produce a cause and effect.
LSF: Your tunes do seem pretty personal … 'Hot Kitchen' and 'She's in Love with the Weekend', does that mean the lyrics come pretty easily?
Jodie: Up to this point, I've lived a really outgoing life … it's been really kind of instinctive … an instinctive lifestyle … I think, I'll go and do this when you live your life like that it just brings you to adventures … there are successes, failures … every time that happens you always have a story to tell … it holds value and fabric … I don't like to hold back.
LSF: What's the best part of playing live for you?
Jodie: As I'm growing … telling my story and seeing people at the front miming my words, singing my words … there is no feeling like it … That connection … you sitting down writing that song and hearing people sing it back to you, I can't explain how that feels, it's incredible … cos you dream about it … it could just be one person … it doesn't matter … it's an amazing feeling.
Jodie was a pleasure to chat to. We also talked about what it's like being on tour and the fact that his healthy home fridge tells a different story to the indulges of a hearty breakfast and beer on tour. We also talked about 'Hot Kitchen' and the fact everyone wants to know what DID happen at that party, but he's not telling!  At the end we high fived my first ever interview.
Jodie will be at a number of festivals this summer, but catch him locally at Parklife 11th & 12th June 2016.
Jodie Abacus on Facebook: https://www.facebook.com/jodieabacus/