If you heard Maggie8 on download you'd probably think you were listening to two different lead singers. One an Asian woman with a voice that hits the flutingly beautiful high notes of classical Asian music and the other an accomplished British folk singer – probably female, but possibly male. But what I'm seeing live at Long Division Festival is the split singing personalities of front woman, Niv, a dimunitive figure,whose flexible voice packs a punch of originality and skill. The sound is hypnotic, uplifting and somehow both reassuring and challenging at the same time.
Maggie8 describe themselves on their website as 'an indie folk band from Leeds …with a sound that juxtaposes Eastern harmonies with Western sensibilities'. They are often categorised with the term 'Hindi Indie', and they have been compared to CornerShop by some reviewers, but given the choice, they prefer to think of themselves as 'Hindi Housemartins'.
After watching Maggie8 on stage at the Theatre Royal, Wakefield I was fortunate to meet them backstage. They're a charmingly unassuming bunch although they have a quiet confidence that comes from being slightly more mature than some of the other newish bands on the circuit. They were very obliging in answering my rather naive questions about how they like to describe their sound.
'I don't want us to be genre defining – we didn't want to be like anyone else on the shelf, but "Hindi Indie" is quite catchy and people remember it, so that's fine by us. But in our view every sound is possible – I guess we want to go more Kate Bush-ey,' Niv tells me with a self-knowing smile.
Despite her flowing hair and the attractive summer dress she's wearing on stage, Niv says she's fascinated by the concept of androgyny. 'There are not enough strong female performers around and I like the juxtaposition of acting out the feminine character but also acting out this darker, deeper character…' And there's a quiet power and intelligence in this young woman that you definitely wouldn't want to mess with.
The band got together about two years ago and there have been seven members at different times. The current members of Maggie8 are Matt, who plays drums and also 'sings when the mic is working'. There's also Pete or Peter (he doesn't seem to mind which) who plays keyboards and is an 'occasional guitarist' and Mark who plays guitar and bass. Niv says that she's also quite recently learnt to play guitar.' Mark first taught me to play 'Moon River'. I've learnt to play later in life but these guys in the band have been playing for many years.'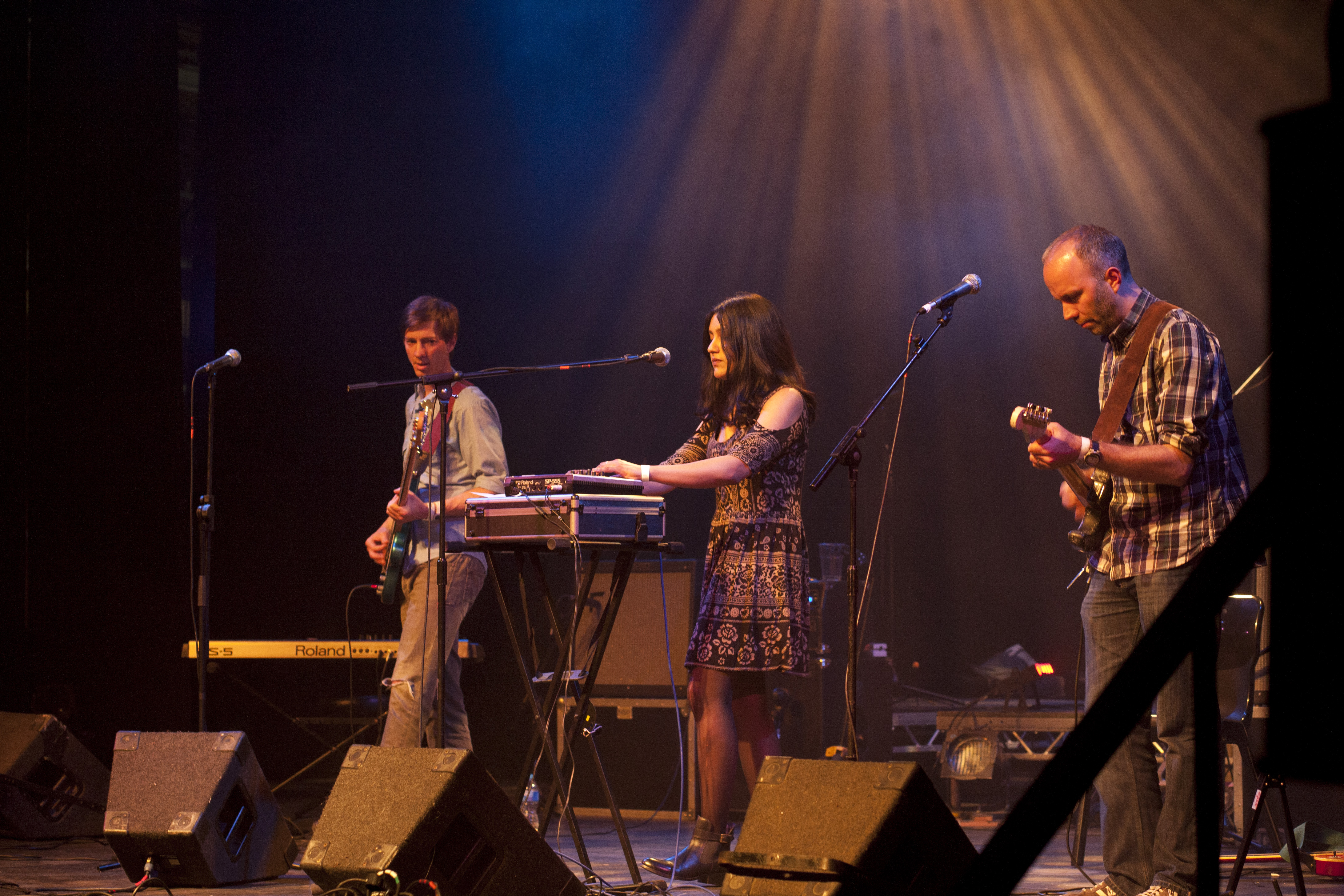 Niv also manages the effects 'box' which the band uses on stage. Listening to them live I was certainly very conscious of a sound reminiscent to the excitement and impact of a Bollywood chorus – and almost expected the band to be joined on stage at any moment by a troupe of smiling, be-jewelled dancers. And then, almost imperceptibly the style will change to the deep and grounded tones of small folk band.
So how did they come up with their current sound?
'I grew up with 90's Bollywood music but my dad telling kept telling me I ought to listen to earlier Bollywood stuff, from his era,' Niv explains. 'I then studied classical Hindi music for three years….' Niv breaks off to sing a perfect rising scale of flute-like notes, 'but then it got really hard to study and I was expected to write in Hindi, and I gave up,' she tells me – with what I can't help believe is a degree of false modesty.
Niv then explains that Mark selects samples from old Bollywood songs, and brings these to the band members who jam around these and reinvents them into something of their own. 'One of the songs we performed at Long Division has the same sample that Bombay Bicycle Club use on one of their tracks,' Matt says, 'They just got there quicker than us, but we both use it in different ways.'
The band agree that they take a very collaborative approach to putting together their songs. 'We'd never create our sound alone – it's all vaguely jam based at the start,' Pete says. 'We've been working together so long and we've tried all sorts of combinations, and found what works for us.'
'Sometimes we switch off the lights and some amazing riffs start happening,' Niv adds gleefully,' I do a great pterodactyl noise in the silence, and I need a lot of reverb…'
So where do the band see themselves headed in the future? 'I'd like us to play more festivals – and get our new album out… but to be honest we're not the best at self promotion,' Mark tells me with incredible honesty. And then adds that what the band really needs is a manager 'We need somebody who is really on it and gets us playing in Europe, in America and India – and only takes a low percentage,' he adds with a grin. 'And we don't want very much – we just want world domination!'
I'm amazed to discover that the band don't have a manager – as I'd been hearing good things about them, long before I got around to experiencing them on stage. And they have the look and feel of a band that is professional – and going places. Before I say goodbye to them I find myself promising to do everything I can to make sure that any prospective managers out their hear about this vacancy. And you have my personal guarantee you will be every bit as enchanted with this bunch of committed and friendly musicians with their intriguingly varied sound, as I am.
Catch their EP 'This Charming Lady' on Bandcamp

and look out for details of their new album – due out very soon. (Which we promise to review on here)
Maggie8 website: http://www.maggie8band.com/index.html