Record Store Day is back on Saturday 18th April 2015. With this big day for record stores, we are launching our 'Spotlight On…' feature. This will be focusing on our local record shops – providing you with all the info you need about location, access, stock and live store music events. If you know of a local gem or if you would like your store to feature, then please contact us. This month, we kick off with Vinyl Tap Records in Huddersfield.
42, John William Street
Huddersfield HD1 1ER
Tel: 01484 517720
Email: sales@vinyltap.co.uk
Web: www.vinyltap.co.uk
Directions: Directly opposite the railway station
Click on the marker to access 'Get Directions'
Opening times:
Monday to Saturday: 9am – 6pm
Sunday: 11am – 4pm (Top Floor only, Basement Floor closed Sundays)
Description: We are a UK-based online mail order record shop, and also a bricks-and-mortar high street shop in the centre of Huddersfield. We specialise in rare, deleted and promo items. We have an extensive stock of 7″ singles (45s), LPs, 12″ singles, CDs, videos, posters, limited editions, picture discs, imports, t-shirts and memorabilia.
Established: 1986
Specialism: Vinyl – largest collection in the UK
Sell: Most types of music from the 1960s to modern.
Disabled access: The shop is on two floors with the top floor having easy wheelchair access, but there is no real access to the basement as there are 2 sets of steps. However, if there is anything we can help with such as bringing items up to the top floor, we will gladly do so.
In-store gigs: We put on lots of in-store performances – over 40 bands have played in the last year. A new stage has been set up at the shop to promote original music and we're currently looking for artists and bands to perform. If you are interested, you can contact us at www.vinyltap.co.uk/contact-us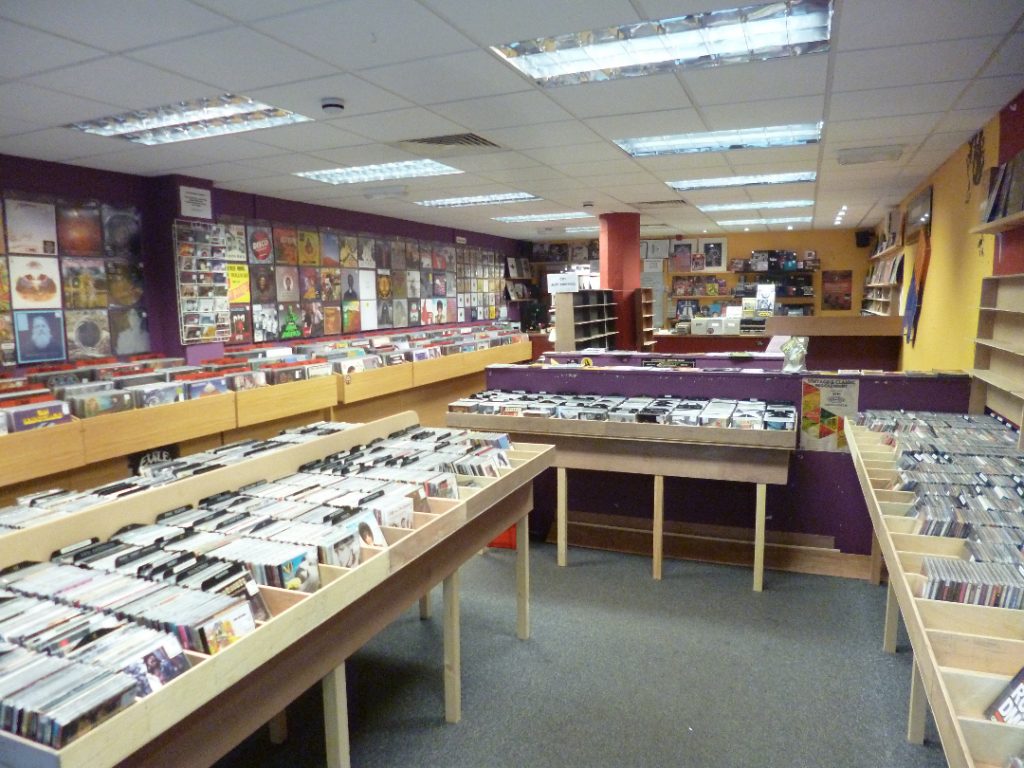 Promoting new music: Vinyl Tap Records sponsor www.tapintomusic.co.uk – a website devoted to promoting up-and-coming artists and bands. You can discover new music, find upcoming gigs and vote for your favourite artists.
Record Store Day 2015: Record Store Day is on Saturday 18th April 2015. You can see the full list of titles that will be released for Record Store Day via the Record Store Day UK website here: http://recordstoreday.co.uk/exclusive-products/rsd-2015.aspx
Everything will be sold on a first-come-first-served basis and only 1 of any item per customer.
We can't reserve anything or sell anything online.
We tend to get people queuing very early in the morning so bear that in mind if there is a special limited something that you really want to get your hands on. Doors open at 7am.
The following bands are lined up to play on the Vinyl Tap Live Stage on Record Store Day 2015:
Able's Army at 09:00
Jazz On Tap at 10:00
The Stray at 11:00
Urban Trail at 12:00
Rib Corps at 13:00
Crooks and Claridge at 14:00
BREEZE at 15:00
Lewis Duffy at 16:00
With thanks to Tony at Vinyl Tap Records.