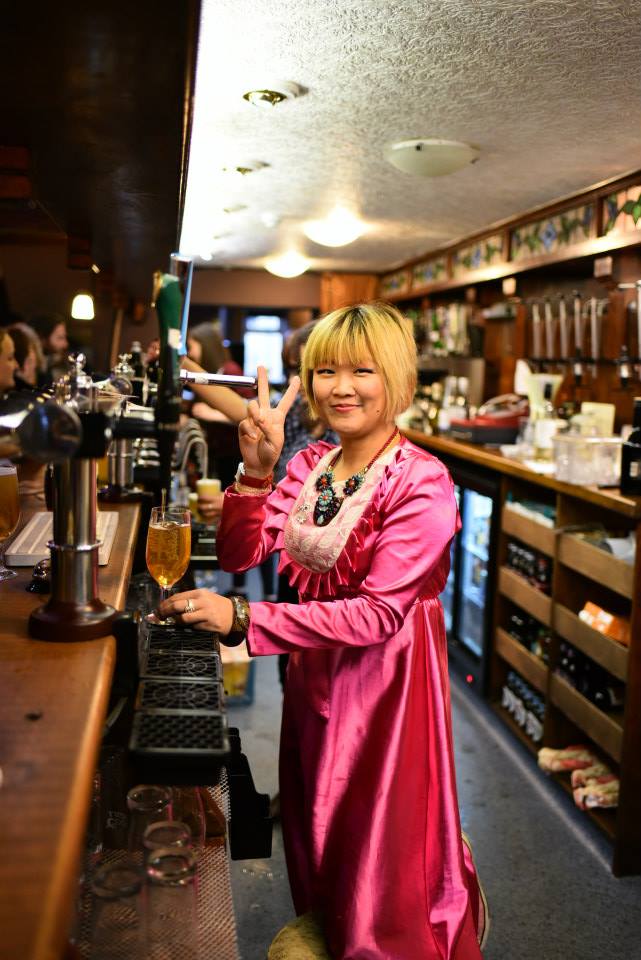 Gig's venues and events support a melting pot of talent of all genres and all ages. We asked her to tell us about her passionate interest in helping artists and musicians and providing free access to music for the local community.
How did you end up where you are now?
Initially I came to the UK to be a helper for my disabled friend who was taking part in the Chelsea Flower Show. I ended up staying in London, working in catering for restaurants and festivals all over the country. I came from a catering background – my Mum had a restaurant in Bangkok – so it was familiar territory.
I studied a Masters in Visual Arts at Leeds University, based in Bradford. I graduated four years ago. I opened the 3 Monkeys restaurant and bar five years ago to try and clear the debt accrued by studying as an international student. It was hard work to finish my Masters and juggle the bar and restaurant, as well as being a mum.
I'm now an artist-In-residence in Bradford and other places too. I do print-making and photography workshops as part of my residency. I give talks and arrange demo workshops. My work is focused on supporting Thai women in British society, particularly those who have been mistreated or abused. My artwork is a 'journey journal' where I compare my adventures in England to Alice's journeys down the rabbit hole.
Gig's adventures can be explored on her blog.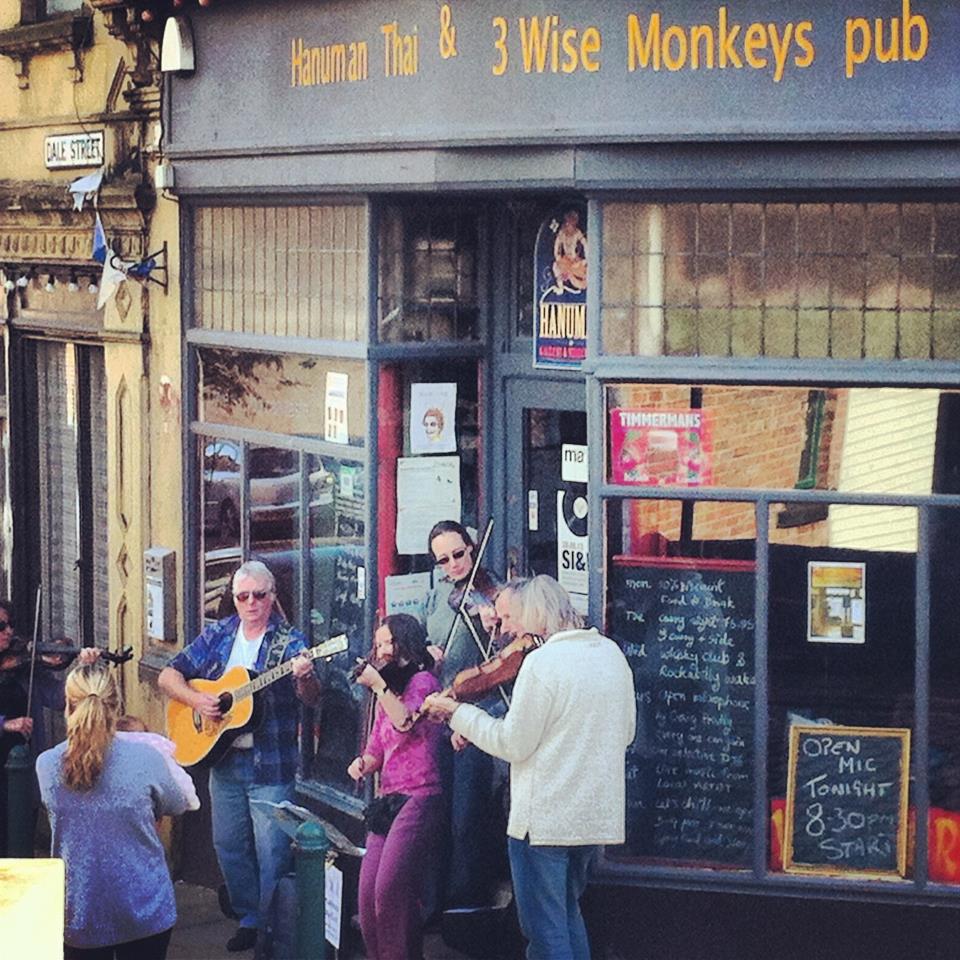 The 3 Wise Monkeys – did you always plan for it to be a music venue?
All my friends and lots of people in this valley are musicians and songwriters. They have the talent but struggle to get into the music market because they have chosen to live in a little valley, away from the cities, which makes it harder for them to get noticed. They need to be supported in their own town. I have venues, and if someone wants to do something I will support them – to keep them here, to keep them doing it.
How do you help?
We have an open mic evening every week where new artists can showcase their material, and we book people for nights from there. We try and give everyone a chance. Someone might be 17 years old and needs to start from somewhere. They need to play and we give them that opportunity.
We also put on live music events every Friday and Saturday evening.
We've really been supporting White Rabbit and Chapter4.
Each month we offer an artist the opportunity to stage an exhibition. On the opening night there are free drinks and nibbles, and we provide the space to exhibit without taking commission. It's difficult to be successful in these industries in this country so we do what we can to help.
Why have you recently opened at the Golden Lion?
We needed a bigger venue and one where the noise wouldn't bother residents, as we'd had some problems with the 3 Monkeys. Here, we're not close to any houses, so we can have live music going on.
We have the open mic every Thursday night here too.
Last year we had 100 acts booked over 52 weeks of the year at the 3 Monkeys. We expect a lot of those acts will follow over to the Golden Lion, as well as attracting new acts.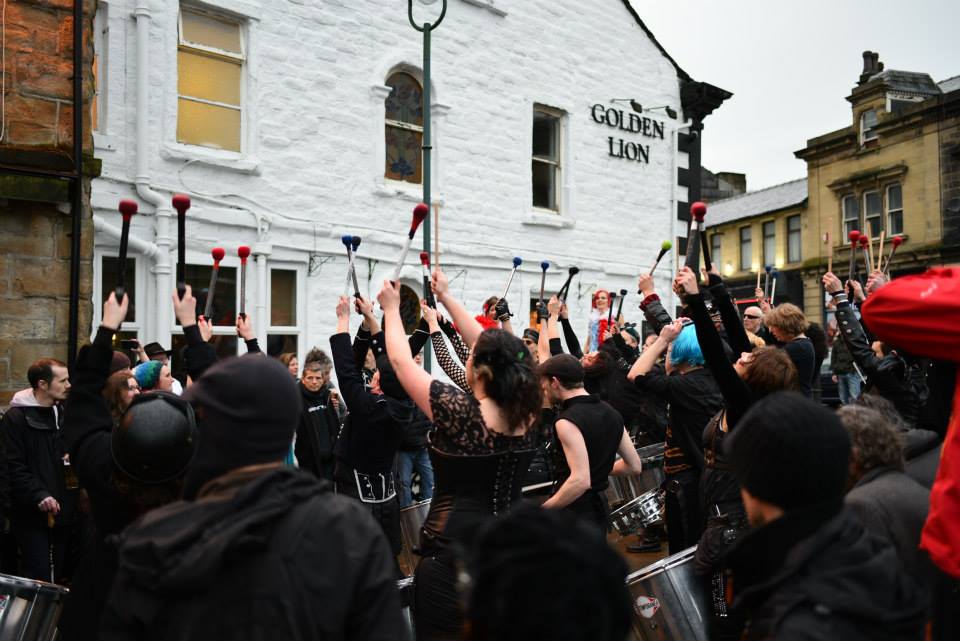 What future music events do you have planned?
We're involved with Tod Folk Fest and other local music festivals, from where we source local bands. We are hosting the Owter Zeds as part of Alternatiba at the Golden Lion on Sunday 3rd May.
We're also planning an ale/cider and all-day music festival this summer and, also, a canal-side music festival.
We have JStar performing on Friday 15 May.
White Rabbit presents Eternal Tapestry (Portland, Oregon) on Thursday 11 June, with support from Woven Skull and Sophie Cooper.
Why do you run most of your events for free?
Music has no funding and little support and many musicians don't have money, so I try to help the community by not charging for gigs. People are already paying for our beer! My support is a way of giving something back to the public.
The gigs we put on are always free, unless the organisers want to put on a charity event, when we let them charge on the door. We have a charity comedy gig booked on the 30th August 2015 for Cancer Research, for example.
We organised a street party in Todmorden last year which was a great success. It was a great opportunity for whole families to come and hang out and everyone was so happy.
What about big names?
As well as supporting emerging bands and artists, we aim to get big names too. For example, we've had DJ, Andy Kershaw, Richard Norris from London, and Stephen Steinbrink from the USA, Camera from Germany, and Throw Down Bones from Italy. It's good that people from the local area get the chance to experience these big artists too, so then they don't have to pay for expensive tickets or travel to see them. They're on their doorstep.
What are your personal tastes in music?
I have to like everything! I like psychedelic music and reggae music, but garage comes top.
My favourite band has to be Nirvana. But I could be inspired by any band – they don't have to be famous.
We understand you're providing community space at the Golden Lion – who's it for?
We provide our upstairs room for private parties, and organisations can charge on the door. This room is also a designated community space. For example, you can use it to do a reading or writing group, jam session or even use it as a practice room – all for free. I am always asking bands to come and practice here, then I can check them out.
We have a booking from Brian Acton's band – they want to film a music video here in the Lion. I am so excited because young people might see the scenes and become inspired themselves.
It's also a case of keeping the Golden Lion going, as it is an important part of our history. It is the oldest pub in Todmorden. We try to link the businesses on Water Street with the Lion and other local venues for festivals – to make it a whole town affair.
Bands can contact Gig through Facebook and send her links to their music.
The Golden Lion is available for hire, and food, a band or DJ can also be provided.
Golden Lion – Fielden Square, Todmorden, Lancashire OL14 6LZ Tel: 01706816333
3 Wise Monkeys – 15 Water Street, Todmorden OL14 5AB Tel: 01706 817010
With thanks to Dave Croft Photography for the photos of the opening celebrations of the Golden Lion.